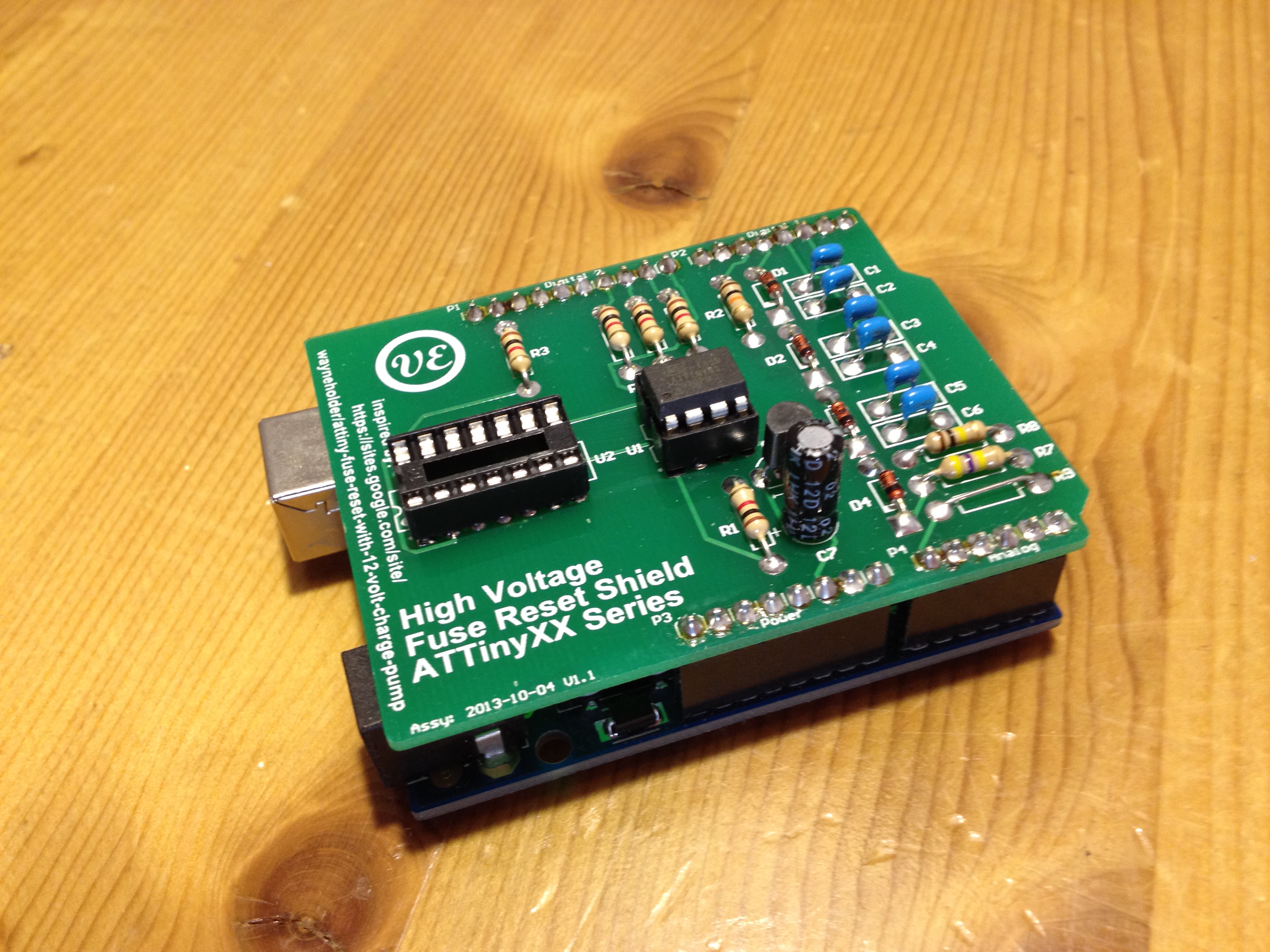 Update 22-3-2015
Received the boards this week. Built one for my self!!
Introduction
If you are programming AVR IC's, you might set the fuses wrong "bricking" the chip. High Voltage programming is then required to reset the fuses to a known state. There are several solutions on the web of building your own. I came across this site : https://sites.google.com/site/wayneholder/attiny-fuse-reset-with-12-volt-charge-pump with a very nice circuit.So all the credits should go to Wayne as it is his design. I just turned it into an Arduino Shied.
Simple, no extra 12V as it is generated onboard in combination with software. I built this shield based on this design. You can simply make it a single sided PCB but keep in mind that you will have to put some tape on the bottom to avoid a short with GND (USB Connector).I designed it with simple straight through components making it easy for anyone to assemble.
I have added a pdf with the schematic and PCB layouts. And if there is enough interest I can have them professionaly made. I will need at least 8 to order to make it worthwhile.
Total costs (including shipping) would be (2014 price):
Netherlands  : € 7.50.
International: € 9.00 or  US$ 11.00.
It won't make me rich 🙂 Just a couple of beers for the effort.
If you want to order one, send me a mail (info@verelec.com) or if you want the parts included  or fully built let me know. For a kit or fully built it will cost a little more. If you wish it in SMD that also is possible. Anything is possible I suppose 🙂
PDF file: ATTiny_HV_FuseReset_Binder