Some years ago I had to build a Twin Reverb cabinet for myself. Unfortunately they weren't as much available as they are today. And I wanted to use a good quality wood. As the drawings were not available at the time I had to deduct it from pictures and the chassis of a Super Six amplifier (which is exactly the same btw.).
So let's start with the drawing:
You can download it here Cabinet.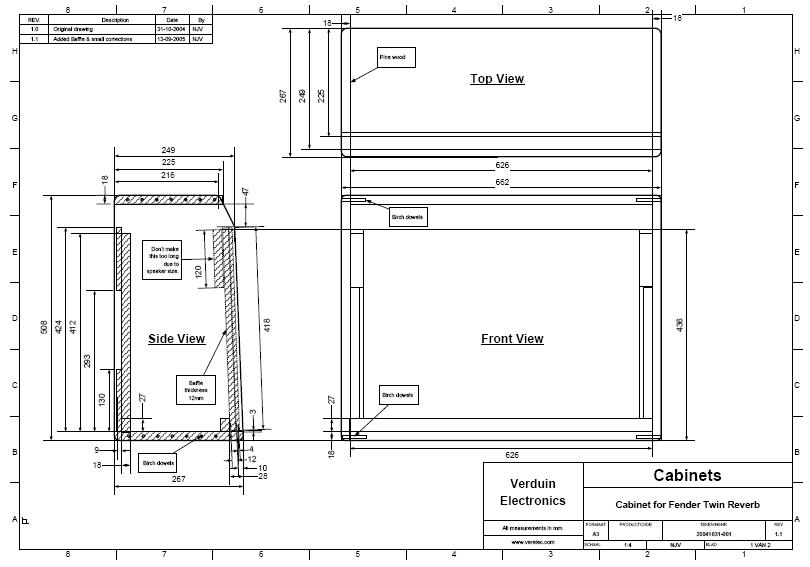 Then comes the wood selection process. The originals used Solid Yellow Pine which was one of the cheaper kind of woods then. Now it is not. I paid about 80 euro's for the wood. So be it.
Next the cutting process. And by studying and when I got the chance some measuring as well :), the wood was cut, and roughly sanded. Save any saw dust or wood cutting dust. Using white woodworking glue you can make a filler with the same color.
As I hate using screws if there is another alternative, I use dowels to extend the strenght in the corners.  First glue the sides square. Let it dry for 24 hours and then drill holes for about 5-6 cm. Then fill it with glue. Hit the dowels in and let it dry for another 24 hours.
While the glue is drying you can make the baffle. I used 12mm birch high quality plywood for this.
When the glue has dried, time to finish the cabinet. Cut off excess dowels, sanding, rounding corners etc.
And last but not least 🙂 Tolex it and put the grill cloth on.